I thought I'd start this blog by just jumping right in! This post is going to be about my all time favourite beauty products and make up etc.
To begin, the most wonderful foundation I have ever used. The one I have re-purchased numerous times, despite its hefty (in my opinion at least!) price tag.
Chanel Vitalumiere Aqua. I wear the shade B20 (B30 when I have a tan... okay, that's never...). I've been a sucker for this foundation from the very moment I first tried it. Super blendable, buildable coverage and B20 is the perfect colour match for my skin-tone. I would recommend that everybody tries this at least once during their quest to find 'the holy grail foundation'. Don't be afraid to ask for a sample at a Chanel counter either - they've always been more than generous to me!
That's right - I am following up an expensive, high-end product with none other than Carmex lip-balm. I'm going to be honest... I have a
problem
with this stuff! Anyone who knows me will probably know it as a trademark of mine. My bag is littered with the little, yellow tubes. I have one on my bedside table, in my car, on my desk at work. I have back up tubes stored, you know, just in case! It's cheap, it's cheerful and even if I wanted to give it up - I couldn't!
Urban Decay, Naked Palette. The first one. I do own the second one too, but I find the warmer tones of this palette more complimentary against my skin/eyes. I have hit pan on several of the shadows at this stage, which testifies my love of it. I know it's an oldie, but it
is
a goodie.
My signature scent - Cerruti 1881. I have worn this perfume since I was about sixteen. I've bought others in an attempt to be more adventurous but no, this is the only one for me. I am not even going to try to describe what this smells like but apparently it's similar to fresh air and crisp linen! Its feel is described as feminine, intimate and understated, and that appeals to me almost as much as the smell itself!
Even if I wasn't going to wear make up, I would put on a little Volumizer mascara by Bourjois. Incredible! It is a two step mascara, but even the first wand alone vamps up lashes, making them elongated and dark. I would say it is slightly clumpy but personally I don't mind that in a mascara. I buy this over and over.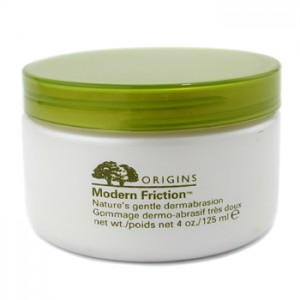 I foresee this blog revealing me as the true Origins fiend that I am! Modern Friction is the
best
exfoliant I have used. Yes, ever. A lady at the Origins counter rubbed some on my hand one day and then rinsed it off, and my skin felt so unbelievably smooth! Seriously, go try it, I bet you will be awe struck! I was just browsing that day but I had to buy it and no regrets!
So there we have it - a round up of products I imagine I'll continue buying, even when I'm eighty years old and probably still trying to rock the balayage!